Stay up to date on the latest trends by reading our fashion blog. Tracy will give you tips on how-to's, what to wear, and style ideas for the season.
"Life is too short to wear boring clothes"
From abstract prints to neon animal prints, these alluring patterns are what makes the world of fashion so much fun! Mixing, matching, and combining prints keep Fall 2019 more exciting than ever. Whether its blacks and whites or warm colors, these items can be paired with anything from a denim to a black or white slack. Whether pulled directly into your full outfit or incorporated into accessories, you can make this fall trend your own. With this trend…everything goes.
Shop Now!
It's summer 2019 on the shoreline and playful dresses with prints are in. From the lemoncello dress to the multi-colored oyster pattern, these dresses are perfect for days around town, down by the beach, and enjoying evenings at the club. Many with special UV protection designed into the fabric. They are not only an easy outfit to throw on but they are also fun and stylish. Pair it with our raffia trainers for a casual look, or the natural sandals to make it more chic.
Living Coral
We're seeing pops of Pantone's color of the year everywhere. It is so pleasing to the eye, really capturing the beholder. Wearing this color takes a plain top to a completely elevated new look of pure style. The woman who walks down the street wearing this color trend is confident and happy, enjoying every minute of the day. We have a variation of garments adorning the color this season, from tee shirts to cropped pants, and even on our shoes. Pair it with other bold colors to make a statement or a classic white accent for a complimentary chic look.
Whether it's head to toe or simply an accent piece, yellow is creeping it's way back into our first week of spring. Although not everyone would call yellow "their color," there are ways to make them work for you! Bright yellows are not always the way to go. Try a more subtle shade of yellow to ensure a vibrant, yet simplistic look. If the full yellow look isn't working for you, try yellow accents or accessories. From a scarf to subtle floral, you'll be on our way summer in no time!
Spring 2019 is wiping out the blackout look. Neutrals are in! From head to toe; caramel, beige, tans, creams, and browns are taking over your look. The key….finding a color that suites you. Variations of color that will compliment your skin tone is what your going for. Don't be afraid to mix tones and textures! Slight variations of tones and combining of different fabrics and textures will give each outfit a chic and edgy look. Oh…and don't forget about accessories. Grab a suede heel and a mix tone fur bag to pair with your look. These neutral tones may look boring on paper, but it can be brought to life this season starting with a statement bag, cashmere sweater, or simply…. your next coffee.
Tassels are absolutely EVERYWHERE this summer season! They can be found hanging on tops and cover-ups, dangling from earrings and necklaces, and decorating sandals and loafers. Tassels are a simple addition to any outfit and when added correctly, they can make you look trendy and fresh. However, be warned, too many tassels and your look can quickly resemble the fateful "curtain dress" from the Carol Burnett Show interpretation of "Gone With the Wind". Frankly my dear, we DO give a damn about looking fashionable, so we suggest restraining each outfit to one or two tassels maximum. This should prevent any potential curtain or drapery confusion.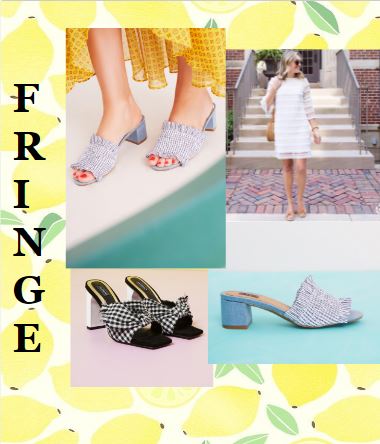 Fringe is a trend that hit the fashion world by storm and isn't going anywhere anytime soon. It's easy to add elements of fringe to make any outfit instantly beachside boho-chic. For example, toss on a pair of raw-edged white jeans, or slip into these adorable Stitched Stripe Block Heel sandals by Jaggar and your look will instantly become fresher, freer, and more fun! Fan of the fringe but want to keep it understated? Try our stunning Sail to Sable White Fringe dress with a pair of platinum Jack Rogers sandals for a more classic interpretation of this funky trend.
Pom-Poms can add just the right touch of personality to your look. They make any look pop and can splash some color into your pigment-parched wardrobe. Make pom-poms the center of attention with a funky and feminine straw bag. Or force them off center stage and onto these gorgeous and delicate pom-pom lined dresses and tops by Sail To Sable.
Spring 2018
If winter has you sensory deprived and starved for colour, the spring and resort collections' palette will satisfy your palate! Think Bright! Saturated colour ruled the runways, followed by ice cream cone pastels. Look for flattering lavenders, an important staple this season. The romantic, softer shades of spring bloomed at every show. An Americana theme was also in evidence, with stars and stripes appearing on everything from head to toe. Also making a strong presence was art inspired prints. Graphics, geometrics, portraiture, and botanicals were all well received on the runways. Overcharged florals set against polka dots made for bold pattern play in London, with more casual variations like patterned knits from Burberry. And don't overlook plaids! The spring shows are still Mad for Plaid! This trend, so popular in autumn, surges on into spring.
Transparencies are IN. Look for sheer, skin revealing fabrics everywhere. Not for the shy or overly modest, diaphanous fabrics leave little to the imagination. Quite wearable, however, are soft, graceful dresses in sophisticated cuts and fluid, layered tops. Effortless grace characterizes this trend, as is the case with satin. Sheen and shine were in evidence on every runway; satin elevates any silhouette and is inherently fluid; its lightness makes it comfortable all night long. Another texture not to be ignored is lace. A perennial favorite, white lace is sensual and delicate. At once innocent and provocative, white lace is the season's ultimate seductress. The runways also embraced languid, neutral shades of sensual lace.
Denim. One word says it all! Dark denim dominates the new season. Denim is what it has always been: timeless, effortless, and cool! The darker washes make off duty dressing infinitely more stylish. Fancy pants, fancy jeans, dresses, skirts, shirts - this season's denim comes in an array of feminine shapes. Cropped jackets, not quite redolent of the '90s, prefer sharp angular cutouts and double stitching. Avoid frayed edges to keep your look sharp. At the spring shows, denim got the formal treatment embroidered, embellished, and bejeweled, designers even paired denim with evening attire.
Don't pack away your fringe; the Italian runways were brimming with it. Shoes, bags, garments, all adorned with the ultimate celebratory element! Japonica featured prominently on the runways. Mandarin collars and kimono styles will play their role in your spring wardrobe. Silky pajama styles, belted and worn with high heels are seen out and about. Yet another popular look is Utilitarian; multipockets and multizippers fitting the lifestyle of today's woman.
And don't forget to wrap it all up with a trench. THE coat for the season, the timeless trench. Traditional and modern, there are seemingly countless variations on the theme. Self tie belt for easy elegance, or open for careless sophistication; caped, multilayered, or sleek, it's the tops in toppers.
The look of this season is said to be intelligent, artful, idiosyncratic. Whatever you choose, as you cruise into the new season, assert a casual confidence.
Packing for Your Cruise
Seek out Wrinkle Resistant fabrics: Great strides have been made in wrinkle resistant poplins and sateens. Think knits, mesh, and jersey fabrics; all crushable and resilient.

Button Down Shirts: Casual yet polished, pair with everything – shorts, skirts, pants, and even over a swim suit.

Shorts: Forget your jeans, Shorts are more comfortable and take up less space in your luggage. Go for neutrals to mix and match. Vary the lengths.
Footwear: Most cruises have a casual day environment; flats, espadrilles, or sandals are recommended. Choose neutral hues to coordinate with your wardrobe. A pair of elegant heels will complement your evening wear for formal dinner events.

Sunglasses, Sun Hat, and SPF: These are necessities! While your sunglasses and hat may add glamour, remember their ultimate role of protection. SPF is critical: a sunburn can ruin a good time!

Essentials: Sleepwear, undergarments, hosiery, and comfy pieces are essential for the privacy of your stateroom. The cruise line will provide beach towels, so there's no need to waste space on them.
Maxi Dress: Comfortable day or evening wear, lounging, and can double as a cover up

Swimwear: For many, this is optional. If you enjoy the water, a bikini or two will suffice. Consider both a baring two piece as well as a one piece, for sun protection or serious swimming. Remember, a bandeau can double as a top when paired with a flowing skirt of pants.

EveningWear: One or two dressy outfits will be required for formal dinner parties, usually once or twice a week. Bare your shoulders to show off that sunny glow.
You're ready to set sail and enjoy your vacation – Bon Voyage!!